POLLUX 100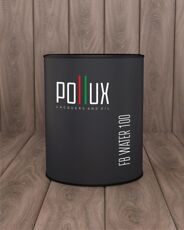 Description:
Waterborne 3 in 1 wood finish.
Acrylic impregnation with antiseptic and UV filter. Creates a matte elastic finish. Reliably protects wood from moisture and does not peel off over time.
Scope: internal and external wooden facades of rounded, profiled, glued beams, as well as lining. Unstable timber structures: railings, fences, terrace boards, garden furniture, roof cladding, window trims and other wood products exposed to high weather conditions. Suitable for various types of wood.
Application recommendation: For best wood protection, it is recommended to apply 3 coats evenly from edge to edge of the board. On a previously polished surface with an abrasive with a grain size of p 100-120.
Due to the peculiarities of the color reproduction of various devices, the color may differ slightly from that stated in the photo!

Approximate name of the product or service