POLLUX FB Oil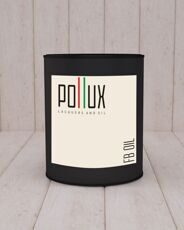 Description:
Protective oil-wax for wood (suitable for external and internal work). Contains antiseptic and UV filters.
Scope: wooden facades, street terraces, garden furniture, fences, arbors, wooden floors, parquet, and other wooden products. Suitable for various types of wood. Protects wood from moisture, mold and UV exposure.
Recommendations for application: Apply on a pre-sanded surface: for external work use abrasive p80-100, for internal work abrasive p100-120. Apply oil evenly on the surface of the wood from edge to edge of the board. To emphasize the structure of the wood, rub with a rag after 30-60 seconds. after application. Leave until completely dry. Apply the next layer.
Due to the peculiarities of the color reproduction of various devices, the color may differ slightly from that stated in the photo!

Approximate name of the product or service